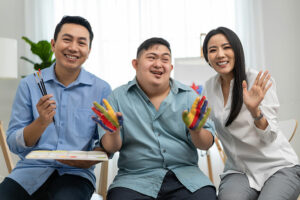 Adults with developmental disabilities may find it difficult to express how they feel when other people may misunderstand their behavior. This can be frustrating and upsetting. One effective way to release this stress is engaging in arts. Through art therapy, individuals can freely express their feelings, even with special needs, speech, language, or motor problems.
Among its benefits IDD Art Therapy and Classes can:
Nurture creativeity and strengthen cognitive and physical skills
Improve self-confidence and communication with others
Soothe to resolve irritation and encourage positive emotions and lastly
Create some time for fun!
Gracious Services, Inc. specializes in aiding individuals with intellectual and developmental disabilities in Fanwood, New Jersey where we are committed to providing clients with meaningful and productive lives.
Our developmental disability care services and supports provide client-centered programs which are aimed at helping people with developmental disabilities to realize their potential and enjoy their lives. We cultivate creativity and talent through a variety of classes, activities, recreations and other fun past-time activities in a safe and comfortable setting.
Aside from recreation programs, we also offer these IDD services:
Day Habilitation Program
Community-Based Supports
Career Planning
Pre-Vocational Training
Respite Care
To know more about our holistic services in New Jersey, reach out to us anytime. We are always happy to help you!